Power CD+G Player Pro Karaoke Player

Play CD+G discs on your computer easily with our software karaoke player. It may turn your computer into a sophisticated karaoke machine!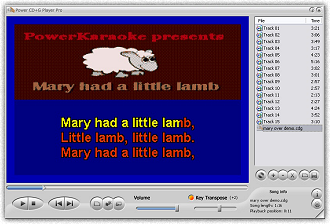 Power CD+G Player Pro is a CD+G karaoke program. It allows to play karaoke discs directly from most of CD-ROM drives and also supports BIN and CDG (MP3G) file formats.
Power CD+G Player Pro is still available, but we recommend using Siglos Karaoke Player/Recorder - the next generation of karaoke player.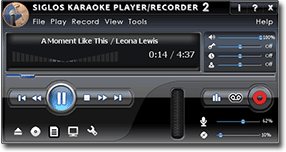 Siglos Power CD+G Player For Karaoke allows you to:
Play CD+G discs from your Computer's CD player (CD+G drive required)
Play CD+G tracks from the hard drive
Play MIDI Karaoke songs
Adjust the key of any song to better fit with your voice
Record yourself singing
Listen to your self singing
Use playlists to manage your songs
Use the built-in full screen mode for the ultimate karaoke experience
Full dual monitor support allows you to play on one screen and manage your songs on the other
Play Multiplex CD+G discs
Add your own image backgrounds
Click here to learn more about Siglos Karaoke Player/Recorder or continue to read about Power CD+G Player Pro below.
The most important features of our karaoke player include:
CD+G discs playback directly from most CD-ROMs


Important notice: your CD-ROM drive has to be able to extract CD+G subcodes. Most of modern drives are capable of this, but we cannot guarantee it will work on all devices. So please make sure that your drive works before you purchase this software

Support for CDG and BIN file formats
Support for any multimedia formats (AVI, MPEG) that are supported by your system
Seekbar allows to jump to any part of a karaoke song
Full screen mode playback
Playlist allows to manage your karaoke collection
Key Transposer - adjust the song to your voice
Enjoy all the fun of Karaoke on your PC!
Power CD+G Player Pro costs $39 USD.


Compatibility
All our software runs on Windows 10, Windows 8, Windows 7, Windows Vista, and Windows XP.