Power CD+G Filter

Play CD+G (CDG and BIN) and MP3G with our karaoke extension for your favorite player!
Power CD+G Filter is a DirectX system karaoke extension (ActiveX karaoke plugin) that will allow you to play CDG and BIN files using any DirectX-aware file players, like Windows Media Player. Using our CD+G filter allows you to use all Windows Media Player's features, like playlists and full screen mode.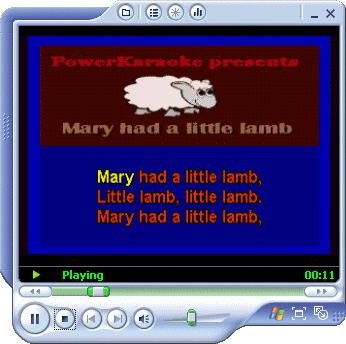 Evaluation version will allow you to play your CDG and BIN files, the only limitation is a watermark displayed on a screen. Full version does not have this limitation.
Important!
Our plugin for karaoke does not play directly from CD - you need to save your CD+Gs to a hard disc first using software like Power CD+G Burner.
---
Power CD+G Filter costs $19 USD.


Compatibility
All our software runs on Windows 10, Windows 8, Windows 7, Windows Vista, and Windows XP.