Power CD+G Burner 2
Burn, rip and copy CD+G discs on your computer
Burn

CD+G discs on your computer.

Save

(rip) CD+G songs to your hard disc. Power CD+G Burner is all-in-one software for karaoke CD disc burning and ripping.
---
Power CD+G Burner 2 software allows you to burn CD+G (BIN, CDG, MP3G, ZIP, KMA, and MCG) songs on regular CD/DVD drives. With our karaoke burner program you can save CD+G tracks to your hard disc (in MP3G and ZIP formats) and
copy

karaoke CD with a single mouse click.
Burn CD+G discs from your PC.
Create CD+G discs using music downloaded from the Internet.
Copy CD+G discs.
Convert CD+G discs to digital format.
Change the key of karaoke songs before burning them.
Convert between a variety of different file formats.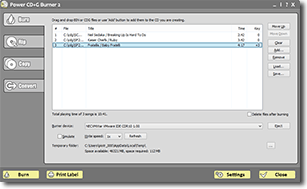 Burn mode screen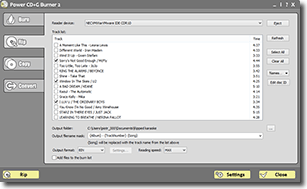 Rip mode screen
Burning CD+G songs has never been so quick and easy - simply select the files you would like to burn and click a button. That's it! No messing with multiple tools - just click and go!
Stop wasting time on encoding, interleaving, converting, and burning. Stop wasting money on additional third party software. Power CD+G Burner 2 is everything you require to write, read, and rip CD+Gs.
Main features of Power CD+G Burner 2:
Burn BIN, MP3G, ZIP, KMA and MCG files.
Drag-and-drop to add files to a compilation.
Change the key of a song before burning.

Key Change

Normalize audio tracks when creating compilation so they are equally loud.
Rip CD+Gs as BIN, MP3G, ZIP, and CDG + WAV files.
Copy karaoke discs with one mouse click.

Copy mode

Create disc compilation.
FreeDB online database lookup allows song and artist names information to be applied to many CDs.
Built-in label printer for CD case labels.

Print Label dialog box

File converter changes formats of entire directory trees. Handles MP3G, ZIP, BIN, KMA and MCG.

Convert mode

Works with most modern CD or DVD burners.


Small technical print: Your drive has to be MMC compatible with support for DAO/96, 99% of them do.
---
System requirements
We recommend Windows 11 or Windows 10 to run our software. It also works on Windows 8 and Windows 7. Needs at least 3 GB free RAM. It will not work on Mac.
Click here to view a full online manual for Power CD+G Burner in a new window
Power CD+G Burner 2 costs $49 USD.
Current owners of other Power Karaoke programs can get Power CD+G Burner for $29.