Power CD+G Stamper

Protect your karaoke CD+G collection with individual signatures.


If you have ever wondered how to protect your CD+G karaoke discs from having them copied by competition then Power CD+G Stamper is a solution you are looking for. It will add a customized text to CD+G files, so that if anyone copies your songs the signature will give them away.

Power CD+G Stamper can add text or image to commercial CD+G karaoke songs to customize them and make them individual.
This can be a way to protect CD+G files. You stamp it with your venue name or add any other customized item (you can even display name and phone number on the title page) and if anyone from your competition copies files off your hard drive, they still won't be able to use it.
Advanced options allow you to:
select signature placement
choose font and color of the signature

use image as a signature (transparent PNG file format is supported)

choose which pages to modify
process all your files at once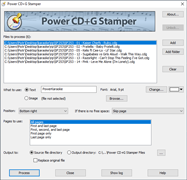 Click to enlarge...
---
System requirements
PC-compatible computer running Windows 8 (both 32 and 64 bit), Windows 7, Vista, or XP operating system
1.5 GHz or faster processor
1 GB RAM
16-bit stereo sound card
---
Power CD+G Stamper costs $39 USD. Discounts are available for current Power Karaoke customers ($10 off).

---

Compatibility
All our software runs on Windows 10, Windows 8, Windows 7, Windows Vista, and Windows XP.