Power CD+G to MP4 Karaoke Converter
Convert CD+G to MP4 karaoke videos
Active support and updates license entitles you to free update. Your unlock code will work with the new version.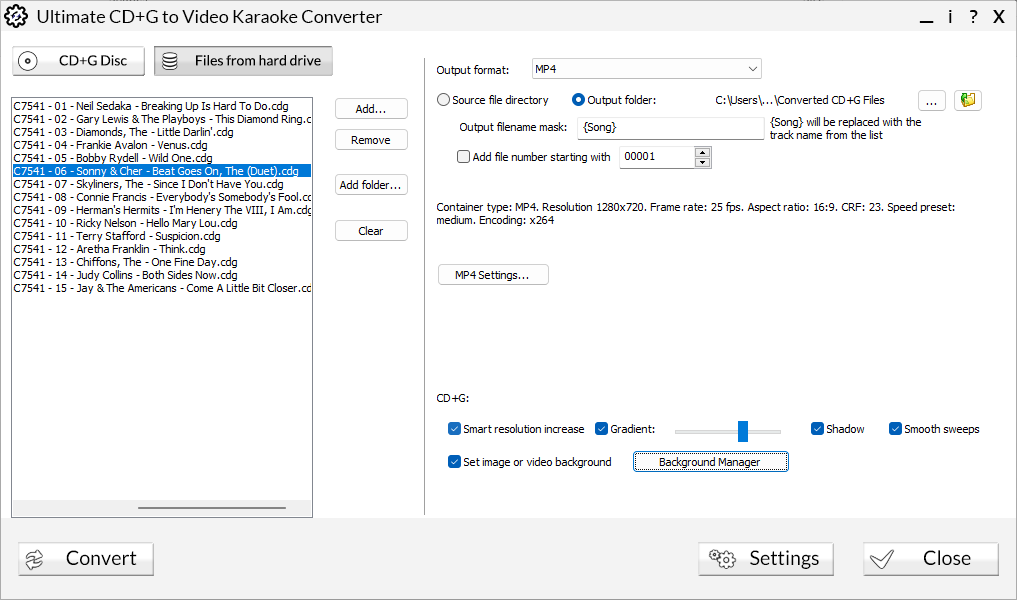 Ultimate CD+G to Video Karaoke Converter Screen
---
Use your smartphone, iPhone or tablet as a portable karaoke machine!
Take your karaoke songs anywhere you go! Or get an AV-link, connect it to TV set, and play karaoke videos from your mobile device.
---
Power CD+G to MP4 Karaoke Converter allows you to:
Convert CD+G discs to MP4 karaoke videos
Convert CDG/BIN/MP3G files from your hard disc to MP4 videos that can be played on any portable devices and smartphones
Replace solid CD+G background with images or videos of your choice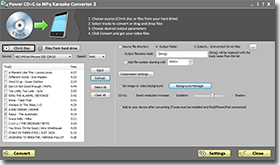 Power CD+G to MP4 Karaoke Converter Screen
Our CD+G to video karaoke converter will convert CD+G discs and BIN/MP3G files into MP4 video files.
Power CD+G to MP4 Karaoke Converter can be used in two modes:
Direct CD+G disc converting mode - this mode allows to read the content of CD+G disc and convert it to MP4 videos

Works with almost any CD+G drive
FreeDB online disc database is used to provide song titles

Files from hard disc converting mode - while using this mode you can convert BIN or MP3G files from your hard disc to use them on your portable device or smartphone

BIN, CDG, and MP3G formats are supported
Batch processing allows to convert many files without user intervention
CD+G enhancements
Automatically enhance CD+G graphics
Our new technology adds whole new visual appeal to the old pixelated CD+G graphics. These new amazing features include:
Smart resolution increase (lyrics look smoother)
Gradient overlay (text gets 3D look)
Lyrics shadow (even more intensive 3D effect)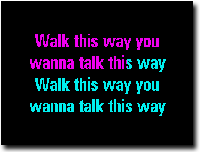 This is the original CD+G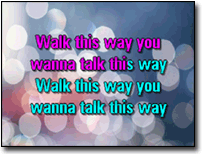 This is how converted video looks
Background images and videos
You may replace solid CD+G karaoke background with images or videos of your choice. Background Manager allows to select multiple images, so every video has a different background.
Power CD+G to MP4 Converter comes with a set of stylish backgrounds.
You may event create animated background from still image -- if image is at least twice as wide as it is tall, it will be smoothly scrolled behind the lyrics.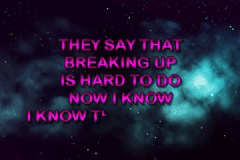 Animated background image
Output formats
You may use our predefined settings or choose custom mode to adjust output video size, frame rate, quality and compression
Available video stream types are MPEG-4, MPEG-2, and MPEG-1.
Available autio stream types are MP2, AC3, and AAC.
You may create videos up to Full HD resolution (1920x1080 pixels).
---
System requirements
We recommend Windows 11 or Windows 10 to run our software. It also works on Windows 8 and Windows 7. Needs at least 3 GB free RAM. It will not work on Mac.
Click here to view a full online manual for Power CD+G to MP4 Converter in a new window
Power CD+G to MP4 Karaoke Converter costs $49 USD.

Users of original Power CD+G to iPod Karaoke Converter can upgrade at the price of $19. If you own any other our software, you get $10 discount on your purchase.